Roadway Safety: Operator Safety
Laborers' Health and Safety Fund of North America
Summary Statement
A handout describing steps that equipment operators should take in a workzone to assure the safety of others. Part of a collection. Click on the 'collection' button to access the other items.

This document is one in a program produced under an OSHA grant by a consortium of the Laborers' Health and Safety Fund N.A, the International Union of Operating Engineers, the American Road and Transportation Builders Assn, and the National Asphalt Pavement Assn. All of the documents from this set that are on eLCOSH can be found by clicking on Job Site, Heavy construction, and scrolling to the Street & highway heading. Or to download a complete version of the computerized program, go to https://www.workzonesafety.org/.
How Can Operators Stay Safe?
Unload, operate equipment only if qualified.

Equipment operation
Before starting equipment, do a walk around inspection
Test back up alarm, other safety devices
Locate and test all controls
Know equipment blind spots, swing radius
Use equipment seatbelts
Entering and exiting equipment
Use 3 points of contact to prevent falls
Look for other moving equipment, vehicles
Wipe up all grease and fluids on equipment walking/working surfaces
General safety What Are Other Safety Measures?
Stay alert and aware of the hazards.
Equipment maintenance/repair
Report all repair needs to your supervisor
Always lock out and tag out equipment that cannot be safely operated
General Safety
Use personal protective equipment (PPE) supplied/required by your employer
Never use cell phones, AM/FM radios, or CD players while operating equipment
Safely secure equipment before using employer-provided hand-held cell phones or walkie-talkies
Secure unattended equipment
Lock-out, tag-out before maintenance, set parking brake, chock wheels, block dump truck bed
How Can We Be Safe in the Work Zone?
The operator has special responsibilities.
Know the job
Know the work zone and your position in it
Know the internal traffic control plan
Use designated equipment routes and areas
Identify rollover hazards such as unleveled areas, embankments, unstable soil
If you must move cones or barricades, return them to the original positions as soon as possible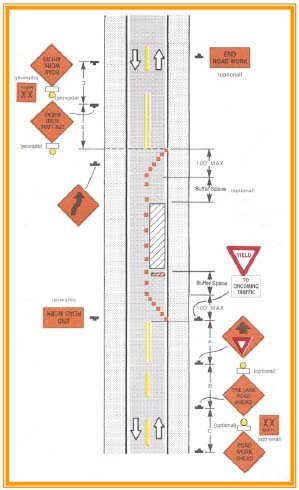 How Can We Protect Other Workers?
Always keep other workers in mind.
On the worksite
Know the locations of other workers around you at all times
Set up a means of communication with workers around you such as flaggers, grade checkers
Never allow other workers to ride on equipment
Where possible, provide barriers between workers and equipment
Avoid excessive speeds and dangers caused by hills, obstacles, curves