Roadway Safety: Strains and Sprains
Laborers' Health and Safety Fund of North America
Summary Statement
A handout describing the most common musculoskeletal hazards in road work and how to avoid them. Part of a collection. Click on the 'collection' button to access the other items.

This document is one in a program produced under an OSHA grant by a consortium of the Laborers' Health and Safety Fund N.A, the International Union of Operating Engineers, the American Road and Transportation Builders Assn, and the National Asphalt Pavement Assn. All of the documents from this set that are on eLCOSH can be found by clicking on Job Site, Heavy construction, and scrolling to the Street & highway heading. Or to download a complete version of the computerized program, go to https://www.workzonesafety.org/.
What Injuries Are Most Common?
Injuries can happen once or can accumulate.
Common sprain/strain injuries in road work
| | | |
| --- | --- | --- |
| Hand/Wrist Problems | Back Injuries | Sprains, Strains, Overexertion |
| | | |
43% of lost work day injuries in roadway construction are sprains/strains
What Causes These Injuries?
Think of the most difficult parts of your job.
These injuries may be caused by
Working in awkward postures such as raking asphalt
Handling heavy materials like in concrete formwork
Repetitive work like rebar tying and operating a joystick
Using vibrating tools like a pavement breaker
Whole body vibration for operators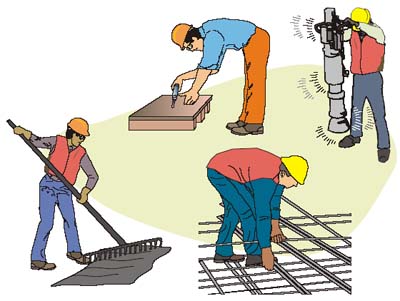 How Can We Avoid Sprains and Strains?
Think of ways to do the job differently.
Work can be made easier
Minimize manual materials handling with dollies, hoists, other equipment
Better job planning (deliver materials where they're used)
Store materials for easy access
Use tools that are comfortable, easy to handle
PPE and breaks can help
Wear PPE like kneepads and shoulder pads
Take breaks when possible, rotate difficult and easier tasks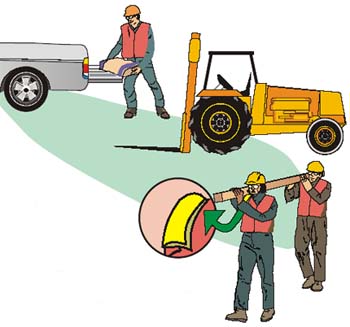 What Can You Do to Prevent Injuries?
Do at least some of these measures.
To prevent injuries
Plan and maintain a clear, level walking path
Don't lift too much by yourself, get help
Use proper lifting technique, lift with your legs not your back when possible
Avoid working in awkward postures
Do stretching exercises before work
Keep fit