Roadway Safety: Run Overs & Back Overs
Laborers' Health and Safety Fund of North America
Summary Statement
A handout describing dangers of working in a highway workzone and steps to take to improve safety such as wearing PPE and correctly placing traffic control devices. Part of a collection. Click on the 'collection' button to access the other items.

This document is one in a program produced under an OSHA grant by a consortium of the Laborers' Health and Safety Fund N.A, the International Union of Operating Engineers, the American Road and Transportation Builders Assn, and the National Asphalt Pavement Assn. All of the documents from this set that are on eLCOSH can be found by clicking on Job Site, Heavy construction, and scrolling to the Street & highway heading. Or to download a complete version of the computerized program, go to www.workszonesafety.org.
Can We Be Safe Near Equipment/Traffic?
Being struck is the biggest danger in road work.

Workers on foot must
Remain alert at all times
Check surroundings often, listen for warnings
Keep a safe distance from traffic
Stay behind protective barriers where possible
Look out for each other, warn coworkers
What Other Precautions Do We Need?
Employers must provide proper PPE.
Workers must wear personal protective equipment (PPE)
Proper class of safety vest at all times in the work zone
High-visibility clothing and headgear
Bright-colored hard hats are more visible
Class I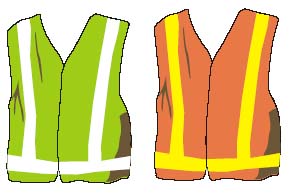 Class II
Class III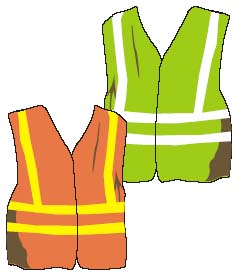 What About Construction Equipment?
Treat equipment and vehicles with caution.
Around equipment, vehicles
Stay out of "blind spots"
Communicate with operators by radio signals and/or eye contact
Don't approach until you communicate with operator and he/she acknowledges you
Stay outside a "safety circle" around equipment
Stay clear of vehicles, know traffic control plan
Use spotters when you must work with your back to equipment or traffic
How Can We Be Safe When Placing TCDs?
Simple precautions make placement of TCDs (Traffic Control Devices) safer.
Workers should
Wear a Class III vest to be easily seen
Place, relocate, or remove TCDs when traffic flow is light
When possible, work from platform on vehicle
Use seat, seatbelt, fall restraint, or guardrail and a handhold when guardrail must be removed
Stay in constant communication with driver
Use shadow vehicle to warn drivers