Bright Idea #3 : Pipe Wrench Stand
COHP, University of Massachusetts Lowell
Bright Ideas

The following are links to all of the items in this collection:

Videos
Summary Statement
Describes a lightweight pipe-wrench stand that holds one wrench in place while another is used, for 2-wrench jobs. Reduces ergonomic stress. Part of a collection. Click on the 'collection' button to access the other items.

Pipe wrench stand
Pipe wrenches are handy tools but they can be awkward -- and dangerous -- to use.
Working with two of them and a pipe can cause injuries and awkward positions. It can take a lot of force to hold them and tighten a pipe at the same time. When a wrench slips, a user can sprain fingers or wrists.
"It's just not easy, trying to hold two pipe wrenches -- one in each hand -- to work with pipe and fittings," says John Young. A longtime member of Local 367 of the Plumbers and Steamfitters Unions in Alaska, he's had his share of sore muscles, pinches, bruises and sprains from having to do work this way. Other workers tell him about aches and pains and broken fingers from using wrenches.
"In close quarters, it's even worse," he says. "You waste a lot of time crawling in and out --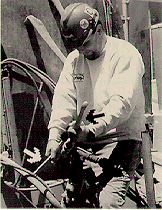 causing pain too. A tripod pipe vice is supposed to solve the problem, but you can't get it in most cramped spaces where we work a lot. Besides, it weighs about 40 pounds and doesn't fit in a small tool box."
Other trades run into the same problems. Mike Casey, from the Boston-area Laborers Local 223, sometimes has to use two wrenches at once in his work (see picture on left).
"If what I'm working on is in the air, I have to try to get another guy to hold the second wrench or I'd be killing myself."

The process: frustration inspires
Young got particularly frustrated with this ergonomic problem about five years ago. He was working as a plumber and pipe fitter on a 350-foot crab processing ship out of Dutch Harbor Alaska.
"After a few days of going in and out of the crawl space to take the broken pipe valves and fittings to a tripod pipe vice, I realized I was spending more time crawling than repairing. There was nothing on the market that could solve this problem, so I did."
He wanted something that could stand in areas where a tripod pipe cannot fit in the work space. He was also concerned with times when a vice is not available or pipe fittings don't fit in a vice.
Finally, it had to be compact and light so it didn't add to the force needed to do the job or cause more awkward postures.
The solution: a light wrench support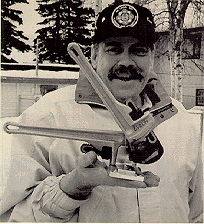 After a few hours in the shop, Young came up with a pipe wrench support stand to solve the problem. Modified during the last five years, now it is patented by a Portland, Oregon die casting firm.
The "Wrench Master" support stand is lightweight aluminum and small enough to fit in a tool box. It won't spark in hazardous areas. It can turn a pipe wrench into a pipe vise, leaving users with a free hand to hold a pipe or fittings. (See Young in picture at left.)
The stand fits all brand-name pipe wrenches. It can be adapted for use on a work bench or soft ground.
"I use it every day I deal with pipe," Young says. "It saves me time and bruises, never mind awkward positions. It's safer too."
Other pipe wrench users like the idea. Casey responded quickly: "Anything that takes the strain off your body is what we need."

Using this bright idea....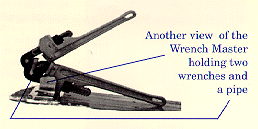 This kind of tool support can be used in other construction trades. Young suggests it can be used for changing drill bits or by concrete workers who use a pipe vice to loosen bolts and nuts.