Good Scaffold Practices 2- Get Connected
Construction Safety Association of Ontario
Summary Statement
Describes the steps that should be taken to install scaffolds safely, focusing on frames and braces. Includes a quiz. Part of a collection. Click on the 'collection' button to access the other items.
Summer 2001
This is the second in a series of bulletins intended to promote good scaffold practices in the masonry industry. The series deals with arch-frame scaffolds and this issue looks at frames and braces.
Before erecting scaffolds, make sure frames are not bent or missing any of their components. Broken or bent frames should be tagged and taken out of service.
Installation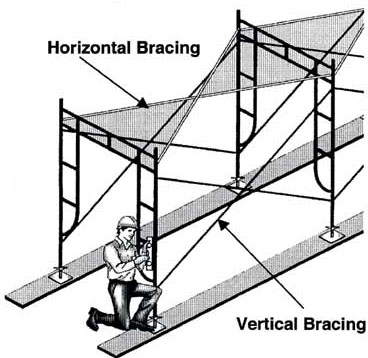 Align frames along the wall leaving sufficient clearance for side brackets. A space of 2 to 4 inches will allow excess mortar to fall freely without splattering the wall, yet not allow a worker's foot o become jammed. Vertical bracing is necessary on both sides of every frame. Use a hand level to endure frames are plumb. Minor adjustments should be made by adjusting leveling screws.

Horizontal Bracing

The use of horizontal bracing on the first tier helps to square the scaffold before nailing base plates to the mudsills. Horizontal brace s should be installed on the first level and on every second level thereafter.
When placing horizontal bracing on the first level it is good practice to install the bracing near the top of the first frames. This will not impeded distribution of materials to masons or present a tripping hazard to laborers.
It is good practice to install horizontal bracing at the same level as tie-ins to the structure. This topic will be dealt with in a later edition of this bulletin.
Connections

Insert pins are good to connect frames vertically. It is good practice to have the insert pin permanently installed in the top of each gram. When the nest frame is places over the pin, a pigtail or other connecting device is used to connect this frame to the pin. Securing devices are very important. as they eliminate the possibility of uplift or separation.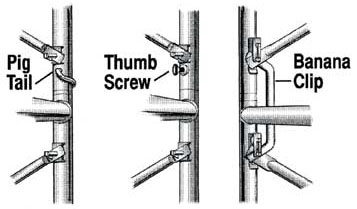 Coupling devices are often omitted in the belief that the load on the scaffold will keep the sections together. In fact, uplift can occur due to swaying or uneven loading, causing the scaffold to pull apart if not connected positively.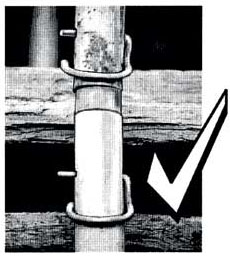 Positive Connection Using 2 pigtails


Section 128(1)(e) of the construction regulations requires a positive connection between frames in both tension and compression.

This connection can easily fall apart if there is any sway


Scaffold components from different manufacturers may not fit together properly. Do not force or alter components to fit. Check with manufacturer before using replacement parts.
Vertical Bracing

Each level of the scaffold should be fully braced in the vertical direction (cross brace) before proceeding to the next level. If the scaffold has been laid out level and square, the braces should fit easily. Do not force braces to fit easily.
Cross braces are equipped with either notches or holes t the ends. The braces with notched ends can only be used with J-Lock connectors.
Braces with holes at the ends can be used with any of the standard locking devices.
Ensure all connectors are maintained in good condition.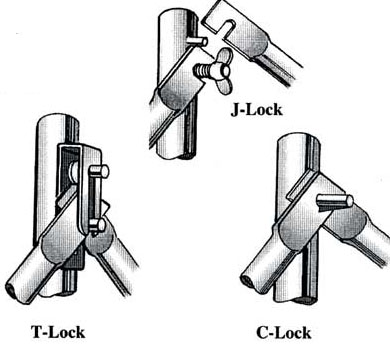 Never climb up or down the braces. This creates a dangerous fall hazard and may damage the braces. Section 70 of the Construction Regulations requires that a ladder be used to access a scaffold at all times. Always ensure ladders are tied off.
All parts, fitting, and accessories must be installed in accordance with the manufactures' instructions.
Failure to install all components can significantly reduce safety factors and stability.
Section 128(1) of the Construction Regulations require that each scaffold frame be braces in the vertical and horizontal direction to prevent lateral movement.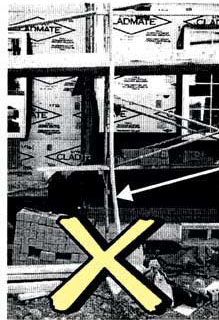 Braces should be on both sides of each scaffold piece except for the end frame.

Never used bent frames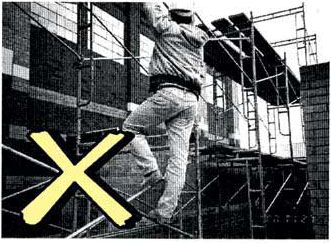 Do not use braces to climb up and down scaffold. Use a ladder.


Refresher Quiz (True or False)
answers found below
| | | |
| --- | --- | --- |
| 1) One brace per scaffold frame is sufficient. | True_____ | False_____ |
| 2) Scaffold frames must be pinned together to prevent uplift. | True_____ | False_____ |
| 3) Bent frames should only be used at the end of a scaffold run. | True_____ | False_____ |

For more information or training, contact
© Construction Safety Association of Ontario
21 Voyager Court South, Etobicoke, Ontario M9W 5M7
Tel: 416-674-2726Fax: 416-674-88661-800-781-2726
info@csao.org