Summary Statement
Information for workers about cadmium exposure including where cadmium can be found, the effects of exposure and how your doctor can help.

FACTS ABOUT CADMIUM
JOBS WHERE CADMIUM CAN BE FOUND:
Refining and smelting
Making nickel-cadmium batteries
Welding, burning, torch-cutting, grinding or abrasive blasting surfaces that are either coated with cadmium plating or paint containing cadmium. <
Soldering with silver solder or brazing (for hobbies too!)
Making or using pigments for coloring plastics, ceramic glazes, paints and enamels
Electroplating using cadmium
Making or using cadmium stabilizers, catalysts, or phosphors
Cleaning up or working wit hazardous wastes such as flyash
Wrecking and demolition where cadmium is present
Making or using colored transfers containing cadmium
Recycling telephone and electric cable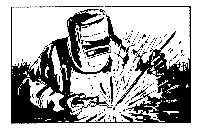 ________________________________
Find out if the Products You Work WIth Contain Cadmium!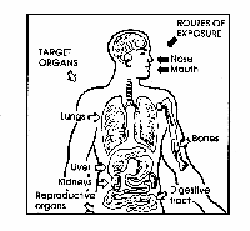 CADMIUM CAN MAKE YOU SICK:
Cadmium is most dangerous if it is breathed and less so if it is swallowed.
Cadmium dust or fumes can contaminate food, drink, cigarettes, chewing gum in the workplace.
High exposure may cause nausea, vomiting, cramps, diarrhea followed by lung damage and even death after several hours.
Exposure over a long time may damage your lungs or kidneys and can even cause cancer.
Families of those who work with cadmium can get sick from cadmium too, if the worker takes it home in his/her clothing.
________________________________
Warning : Smoking Cigarettes and Breathing Cadmium Dusy or Fumes Can be Very Bad for Your Lungs.
WHO CAN HELP?
Your doctor or the company doctor who will order the right medical tests and tell you what the results mean to your health.
Your Safety Officer or industrial hygienist can check your work area for cadmium dust or fumes and can help you avoid it with protective equipment and controls.
Your Federal Government (OSHA) If conditions are bad, call the nearest OSHA office and complain.



Avenel (908) 750-3270
Parsippany (201) 263-1003
Hasbrouck Heights (201) 288-1700
Marlton (609) 757-5181

Your Union Tell your union about your concerns and ask how it is involved in making your job safer.

Your State Government for information and referrals.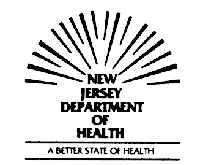 The Cadmium Project
Occupational Health Service
CN360 Trenton, NJ
08625-0360
(609) 984-1863


___________________________________
THE FEDERAL GOVERNMENT (OSHA) HAS RULES ON USING CADMIUM SAFELY THAT EMPLOYERS MUST FOLLOW
AN IMPORTANT MESSAGE FROM YOUR NEW JERSEY DEPARTMENT OF HEALTH
___________________________________
| | |
| --- | --- |
| | You have been tested and cadmium has been found inside your body. |
| | This pamphlet has advice and information to help you protect yourself from cadmium. |
How to Avoid Cadmium

Your Checklist
CHANGE into work clothes and shoes before beginning work each day. KEEP your street clothes and shoes in a clean place.

WEAR a clean, properly-fitted respirator in all work areas that have overexposure to cadmium dust or fumes. SHAVE clean to get the best fit.

WASH your hands and face before you eat, drink or smoke.

EAT, DRINK & SMOKE only in areas free of cadmium dust and fumes.

VACUUM your work clothes and shoes at work before you eat, drink or smoke and before you remove them.

SHOWER at work at the end of the


___________________________________
Don't Let Cadmium Get into Your Body!