Summary Statement
Articles by the Laborers' International on the presence of nanomaterials in some building products and the potential hazards.
April 2011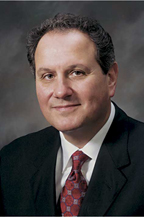 LIUNA General Secretary-Treasurer and LHSFNA Labor Co-Chairman Armand E. Sabitoni
Construction has always been a bricks and mortar business, but bricks and mortar may not be what they used to be. Employers and Laborers need to be aware and take precautions.
"Thanks to chemistry and new technology," says LIUNA General Secretary-Treasurer and LHSFNA Labor Co-Chairman Armand E. Sabitoni, "microscopic particles called nanomaterials have been integrated into basic building materials to make them stronger and more durable than they used to be.
"However," Sabitoni warns, "the safety of these new materials has not been well-studied. Handling them could have significant health risks. One kind of nanoparticle – carbon nanotubules – has even been found in the lungs of World Trade Center cleanup workers with respiratory disease. Laborers and signatory employers should be made aware of the risk and exercise caution."
NIOSH says studies on animals indicate that, when inhaled, some specific nanomaterials (NMs) may be as toxic as silica dust and asbestos fibers. The agency is urging caution and recently asked for comments on a variety of recommendations to reduce risks.
These building materials may contain nanomaterials:
Concrete
Ceramics
Windows
Building Facades
Paint
Steel
What are nanomaterials?
Nanomaterials (NMs) are ultrafine substances of varying shapes that are measured in nanometers, one billionth of a meter. That is about a 100,000 times smaller than the diameter of a human hair (only a few atoms thick). As the technology develops – it has only been around for about 20 years – NMs are becoming increasingly integrated in construction and other industries. NMs are sometimes used in cement, in coatings that make floors scratch resistant and on windows to keep glass fog free. When implanted in walls, they can make it possible to monitor and resolve internal cracking, corrosion, wear and stress before these require serious and costly repairs. Beyond construction, NMs are being used in the manufacture of electronic circuits, dental implants, zinc oxide ointments, cosmetics and sunscreen.
NIOSH Draft Recommendations
Train workers on the potential hazards.
Control exposures to the lowest level practical using engineering controls (ventilation, etc.).
Avoid handling materials with NMs in their "free form" or powdered state or in tasks that could release NMs like welding or cutting.
Wear protective equipment (respirators, gloves, coveralls) where engineering controls are inadequate.
Clean up after work and before eating/drinking using wash stations and showers.
Do not use compressed air or dry sweeping in areas of possible NM presence.
Change clothes after work and do not take work clothes home.
However, because they are so tiny and so thin, NMs are easily inhaled and may lodge deeply in the lungs. They can also be swallowed or absorbed through the skin. No one knows for sure how our bodies will react to these materials. OSHA standards do not specifically address NMs, and no universally accepted policy regarding the selection of NM-protective personal protective equipment (PPE) exists.
"To ensure safe development, handling and disposal of nanomaterials," says Sabitoni, "LIUNA is calling for more research into occupational exposure of these materials and exacting guidelines for safe handling to be issued without delay."
The federal government is starting to take action. The National Nanotechnology Initiative, established in 2001, has been updated and now emphasizes the need to assess the toxicity of NMs before production begins. The EPA's voluntary Nanoscale Materials Stewardship Program invites manufacturers, processors and importers of NMs to submit information regarding use of NMs to help the agency gain a better understanding of these materials. NIOSH has just completed Occupational Exposure to Carbon Nanotubes and Nanofibers, a draft Current Intelligence Bulletin (CIB) that contains toxicological data and safe handling guidance, and OSHA now recommends that exposures to NMs be minimized to the lowest level reasonably practical." However, with the lack of NM data, OSHA has not defined what "reasonably practical" is. The agency has posted a list of potentially applicable standards that might make workplaces where NMs are in use safer.
Overseas, in response to new data indicating that inhaling carbon nanotubes – a NM used in copper wiring – can cause lung inflammation, the British government has called for a "precautionary approach" toward their use. The proposal has the support of the European Trade Union Confederation (ETUC), which also calls for adherence to the "no data, no market," principle contained in the REACH (Registration, Evaluation and Authorization of Chemicals) Directive. REACH requires mandatory health and safety assessments of chemicals used in volumes exceeding one ton annually and replacement of the most hazardous ones with safer alternatives. The European Parliament wants REACH amended so that NMs are explicitly addressed.
Effective NM regulation is, at best, years away, probably only after many workers have gotten sick. Given the potential benefits of NMs, their continued and expanded use is inevitable.
"Until science and our regulatory agencies find common ground on this subject," says Sabitoni, "signatory employers and Laborers must know when nanomaterials are in use and take precautions to minimize exposures."
[Janet Lubman Rathner]