Summary Statement
Falls from ladders can be prevented and lives can be saved by following the safe work practices described in this booklet.
2015
Introduction
Falls are the leading cause of death in construction and every year falls from ladders make up nearly a third of those deaths. These deaths are preventable. Falls from ladders can be prevented and lives can be saved by following the safe work practices described in this booklet. For more information about how to prevent fatal falls, visit: www.osha.gov/stopfalls. For more information about OSHA's standard on ladders in construction, see 29 CFR 1926.1053.
This booklet was adapted from Falling off Ladders Can Kill: Use Them Safely, developed by the Singapore Workplace Safety and Health Council in collaboration with the Ministry of Manpower. OSHA thanks both the Council and the Ministry for granting permission to use this information to educate employers and workers about how to use ladders safely to prevent fatal falls in construction.
Employers are responsible for providing training and a safe and healthful workplace for their workers.
When Should You Use a Ladder?
When you want to reach a higher work area, think about the best equipment to use. While a ladder or stepladder is commonly used, it may not always be the best option. Ask yourself these questions before deciding on a ladder:
Will I have to hold heavy items while on the ladder?
Is the elevated area high enough that it would require a long ladder that can be unstable?
Will I be working from this height for a long time?
Do I have to stand on the ladder sideways in order to do this work?
If your answer is yes to one of the above questions, consider using something other than a ladder. If possible, bring in other equipment like a scissor lift. If you have to use a ladder, use one that has a working platform with handrail barricades on the sides (e.g., a platform stepladder).
Whenever you use a ladder or a stepladder, take note of the safety advice in this guide.
Use the right ladder for the job. For example, ensure the ladder is high enough for you to reach your work area without having to stand on the top rung.
When using ladders to access another level, secure and extend the ladder at least 3 feet above the landing point to provide a safe handhold.
The base of the ladder should be secured.
Wear proper footwear (e.g., non-slip flat shoes).
Place the ladder on stable and level ground. DO NOT place it on an uneven surface.
Ensure that the ladder is fully extended before starting work.
Prevent passersby from walking under or near ladders in use by using barriers (e.g., cones) or getting your coworker to act as a lookout.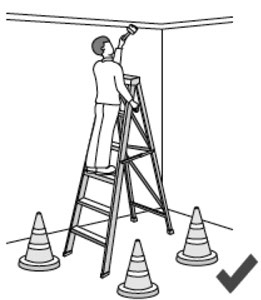 Do not work on the top rung of the ladder.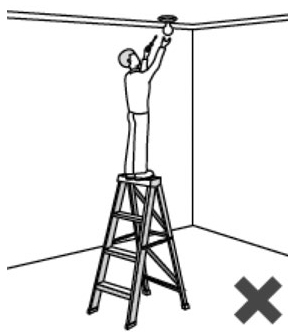 Maintain three points of contact with the ladder at all times.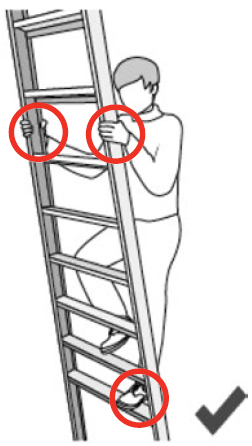 Do not carry any tools or materials in your hands when climbing a ladder.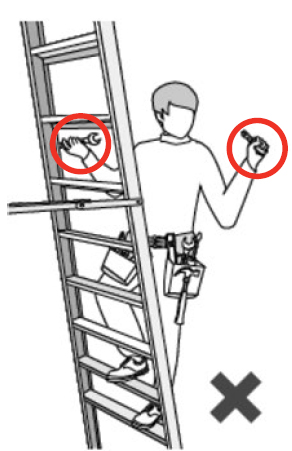 Do not lean away from the ladder to carry out your task. Always keep your weight centered between the side rails.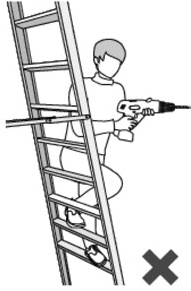 Do not use ladders near doorways. If you need to use a ladder near a doorway, make sure that the door is locked.
Check, Maintain and Store Ladders Well
Before using a ladder, check it carefully to ensure there are no visible defects and that it is in good working condition. Check the ladder according to the manufacturer's instructions.
Maintain and store the ladder according to the manufacturer's instructions.
Do not use faulty ladders such as these: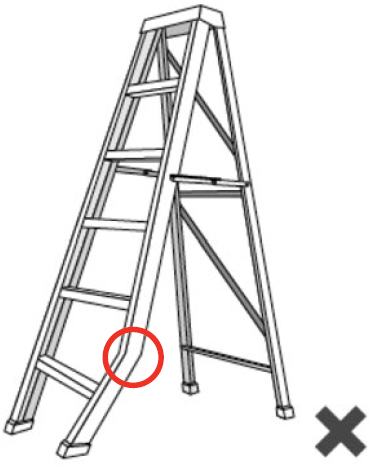 Do not use the ladder if it is bent.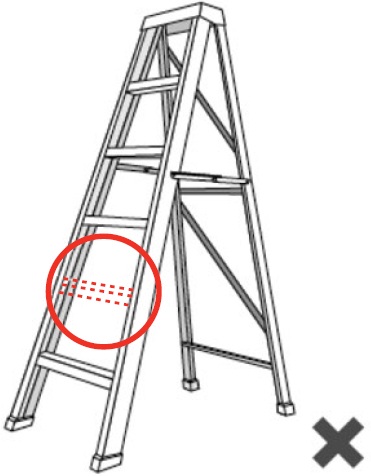 Do not use the ladder if it is missing a step.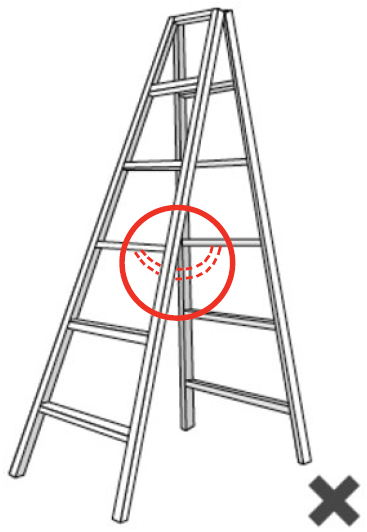 Do not use the ladder if the spreader bars do not have a locking device or mechanism.
Workers' Rights
Under OSHA law, workers are entitled to working conditions that do not pose a risk of serious harm. To help assure a safe and healthful workplace, the law provides workers with the right to:
File a confidential complaint with OSHA to have their workplace inspected.
Receive information and training about hazards, methods to prevent harm, and the OSHA standards that apply to their workplace. The training must be done in a language and vocabulary workers can understand.
Receive copies of records of work-related injuries and illnesses that occur in their workplace.
Receive copies of the results from tests and monitoring done to find and measure hazards in their workplace. • Receive copies of their workplace medical records.
Participate in an OSHA inspection and speak in private with the inspector.
File a complaint with OSHA if they have been retaliated against by their employer as the result of requesting an inspection or using any of their other rights under the OSH Act.
File a complaint if punished or retaliated against for acting as a "whistleblower" under the 21 additional federal laws for which OSHA has jurisdiction.
For more information, visit OSHA's Workers' Rights page at www.osha.gov/workers.
OSHA Assistance, Services and Programs
OSHA has a great deal of information to assist employers in complying with their responsibilities under OSHA law. Several OSHA programs and services can help employers identify and correct job hazards, as well as improve their injury and illness prevention program.
Free On-site Safety and Health Consultation Services for Small Business
OSHA's On-site Consultation Program offers free and confidential advice to small and medium-sized businesses in all states across the country, with priority given to high-hazard worksites. On-site consultation services are separate from enforcement and do not result in penalties or citations. Consultants from state agencies or universities work with employers to identify workplace hazards, provide advice on compliance with OSHA standards, and assist in establishing safety and health management programs. For more information, to find the local Onsite Consultation office in your state, or to request a brochure on Consultation Services, visit www. osha.gov/consultation, or call 1-800-321-OSHA (6742).
Compliance Assistance Specialists
OSHA has compliance assistance specialists throughout the nation located in most OSHA offices. Compliance assistance specialists can provide information to employers and workers about OSHA standards, short educational programs on specific hazards or OSHA rights and responsibilities, and information on additional compliance assistance resources. For more details, visit www.osha.gov/dcsp/ compliance_assistance/cas.html or call 1-800-321-OSHA (6742) to contact your local OSHA office.
How to Contact OSHA
For questions or to get information or advice, to report an emergency, fatality, inpatient hospitalization, amputation, or loss of an eye, or to file a confidential complaint, contact your nearest OSHA office, visit www.osha.gov or call OSHA at 1-800-321-OSHA (6742), TTY 1-877-889-5627.
For assistance, contact us. We are OSHA. We can help.


For more information:
Occupational Safety and Health Administration
www.osha.gov (800) 321-OSHA (6742)
PLAN.
PROVIDE.
TRAIN.
Three simple steps to preventing falls.

U.S. Department of Labor
---
Disclaimer
This material is advisory in nature and informational in content. It is not a standard or regulation, and it neither creates new legal obligations nor alters existing obligations created by OSHA standards or the Occupational Safety and Health (OSH) Act. Pursuant to the OSH Act, employers must comply with safety and health standards and regulations issued and enforced either by OSHA or by an OSHA-approved state plan. In addition, the Act's general duty clause, section 5(a)(1), requires employers to provide their employees with a work-place free from recognized hazards likely to cause death or serious physical harm.